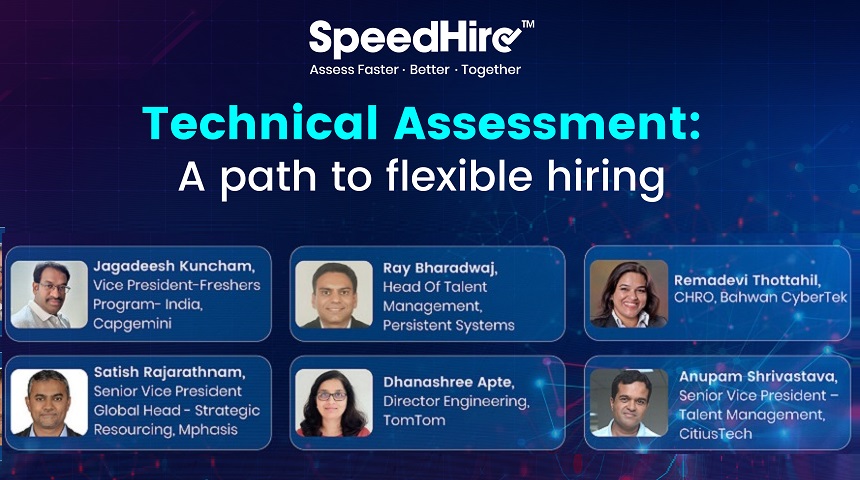 COVID-19 has accelerated the shift towards remote hiring tools. The entire hiring ecosystem has undergone a technological transformation, that is helping organisations evaluate and hire the right candidates. But the quest for qualified talent is unending. Companies are going beyond the hiring conventions and boundaries to select the right fit. But how exactly is this process being implemented? How are hiring managers identifying and selecting the right candidates? 
To talk about all this, watch this interesting conversation with 6 superb panelists from the HR and tech fraternity. 
Jagadeesh Kuncham, Vice President-Freshers Program- India, Capgemini
Ray Bharadwaj, Head Of Talent Management, Persistent Systems                      
Remadevi Thottahil, CHRO, Bahwan CyberTek                                    
Satish Rajarathnam, Senior Vice President Global Head - Strategic Resourcing, Mphasis                                                 
Dhanashree Apte, Director Engineering at India TomTom                        
Anupam Shrivastava, Senior Vice President - Talent Management, CitiusTech


Key takeaways: 
How hiring landscapes are changing, especially for hiring tech talent
Objective-driven hiring and scientific assessments to eliminate biases
Utility of SaaS-based assessment platforms to measure current and future potential of candidates on the required skill sets
Building seamless candidate experience - right from sourcing, screening, assessments, selection, and feedback sharing
How tech-enabled assessment and interview platforms could help in automating the hiring and candidate assessment process
Watch here!